Awakening Inner Guru By Banani Ray and Amit Ray
This book is a clear and straightforward guide to awaken the light within. The book is about awakening your inner wisdom, inner power, inner beauty, your inner self. Living a fulfilling life is a skill that requires both practice and understanding. This book provides both. It is a gem! It can be used for inspiration, or instruction. It can be read countless times for added insight. You may also enjoy reading this book if you really want to explore the full potential of your inner strength. It offers a very down-to-earth approach to understanding, in detail and simple language. For those who are truly interested to attain spiritual freedom and fulfillment in every sphere of life, this book is a practical and personal manual.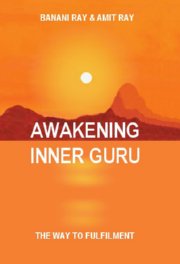 1. It is a step by step guide to awaken your inner power that will help to bring you everything you desire in your life.
2.It is a manual for non-sectarian spiritual practice.
3.It will teach you invaluable lessons about how to understand, observe and train your mind to deal with negative and hurtful emotions.
This book will teach you the secret of conscious intention, conscious decision and conscious choice. It will teach you proven ancient techniques of meditation and other core practices to achieve a higher level of awareness. It will serve you as a friend and guide to an awakened living. The book contains lessons about:
Importance of awakening your inner wisdom
The secret of our body mind and inner light
Importance of forgiveness, patience, generosity and gratitude
How you create your own destiny
How to release resistances
The art of witnessing
Importance of silence to realize your dreams
How to move to silence from the chattering of mind, and  Much more……
To buy the printed Paperback edition or the eBook, click below: